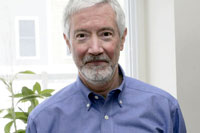 Simpler OneEarth Living Podcast*
SHOW NOTES
To LISTEN, click the player below, or visit the Episode Index. SUBSCRIBE for free through iTunes, Stitcher.com or your favorite podcast service.

In episode 97 of TCGP, we feature PART TWO of a conversation with Bill Ryerson of Population Institute and Population Media Center on Reducing Human Population through Methods That Work.
In PART ONE we featured Crises Caused by Exploding Population.
Today, Homo __sapiens are by far the top predators on the planet. Our species has exploded! More like bacteria than primates. Our numbers have doubled since 1970—just 48 years ago. During the 20th century, world population grew from 1.65 billion to 6 billion. In this 21st century, the rate of growth is going down, but we're at 7.6 billion and still going up. Still, in some countries population is going down. What are those countries doing differently? And just what are the most effective ways we've found to reduce human population? What would be a healthy, sustainable balance of humans with all other species?
Conversations about overpopulation tend to raise gut reactions, such as "What about China's One Child policy?" or "I couldn't possibly suggest to a woman from another culture how many children to have."
In 1999, David Pimentel, Cornell University biology professor, estimated two billion people was Earth's long-term carrying capacity. More recently, the science of ecological footprinting, which measures Earth's biological production against human demand to consume, has come up with the figure of five billion people, putting us already two billion over Earth's limits. Both of these calculations take the question of "how many people" to a deeper level, that of considering our interdependence with the millions of other species on Earth. We know we need millions of species in order for our species to survive. The most basic question can no longer be, "How many Homo sapiens can Earth sustain?" but "How many Homo sapiens and other species can inhabit Earth in a life-sustaining balance?"
Few people want to touch overpopulation, not in the progressive church, not among non-profits, not liberal politicians. I've vowed to carry on this conversation, which began with my interview of John Seager, head of the Population Connection, formerly Zero Population Growth. PART 1 // PART 2
# #
DONATE to Jubilee One Earth Economics
# #
Subscribers to Simple Living Works! (SLW!) Podcast now receive The Common Good Podcast (TCGP)—which I produce and co-host—on the 1st of the month. Likewise, subscribers to

TCGP

receive

SLW

! Podcast on the 15th as a

BONUS.

So,

SLW

! Podcast subscribers will continue to receive two episodes per month. This makes good sense since the missions of both

SLW

! and Jubilee OneEarth Economics are so complementary and the two work together closely. Your comments on these changes are welcome.
The Daily Nudge comes by email (send NUDGE to SimpleLivingworks@yahoo.com) or by Twitter @GeraldIversen. Choose the options that work for you.
Previous Episodes
Early June Bonus—Bonnie Tarwater of Church for Our Common Home Shifting Spiritual Practices and Congregations to More Earth-Based Ways
In the New Story of OneEarth living, religion and science are in a new relationship pursuing a mutual goal. That goal? Living with all beings in interdependent relationship that sustains life, reverses climate change, and breaks through to new social and economic systems. Now, how is this affecting houses of worship? Faith communities of all stripes? It's the pursuit of this new interconnection between spirituality and science that led to the interview of this podcast. Glad you're listening.
On Earth Day 2018, two renowned people, a climate scientist and a theologian. They shared the same platform. They described how science and religion were joining together in a whole New Story for OneEarth living. The scientist was Veerabhadran Ramanathan,  a distinguished professor at Scripps Institute of Oceanography at University of California San Diego and UNESCO Professor of Climate and Policy TERI University, New Delhi, India. In 1975, Ramanathan discovered the greenhouse effect of halocarbons.
The theologian was John Cobb, a scholar in the field of process philosophy and process theology. He is the author of more than 50 books and is described as one of the most significant theologians of the past century. He is a member of the American Academy of Arts and Sciences and has been a major influence in the ecologic movement in China. In 2015 at age 90, he was the architect of a major world conference with Claremont School of Theology, "Seizing an Alternative: Toward an Ecologic Civilization."
The architect of this Earth Day event was Bonnie Tarwater, the innovative pastor of the Church for Our Common Home. On Sunday morning Juanita and Lee went to this house church congregation, formed in the last couple years. John Cobb gave a fascinating homily in the backyard on "God's Call to Earthism." A provocative conclusion to what I consider to be a great Earth Day weekend—an inclusive weekend that included Buddhists, Christians, and Sikhs among various religious traditions.
That story is the background for this episode. The Church for Our Common Home takes its name from Pope Francis' encyclical, "Laudato Si'," which has the ecological subtitle "On Care for Our Common Home."  A lot of the rest of the story comes out in the interview-conversation Lee recently had with Bonnie.
Lee's background blog: Climate Scientist and Theologian Tell How Ecological Crisis Requires New Cooperation between Science and Religion
A 3-part series:
** SLW! episode 111 for mid-April, 2018, of SLW! features part 1 of our conversation with Susan Taylor of Just Money Advisors about her book "What About Our Money: A Faith Response" — Wrestling with Systems Where Money Is Boss
** In early May, TCGP #95 features Susan part 2 on Matters of the Heart.
** In mid-May, SLW! #112 features Susan part 3 on Giving and Investing.
In part 1 with Susan, we gave an extensive bio of her many achievements and involvements. Please check that episode or see her bio on the Natural Investments website. Read her bio in back of her book, p.107.
Also hear our earlier conversation with Susan on TCGP Episode 78 : Susan Taylor of Just Money Advisors on Relating to Money in a Toxic Culture and Parenting Children about Money.
If you haven't yet ordered your copy of Susan's book, do it. The United Methodist Women commissioned Susan to write "What About Our Money? A Faith Response," so order it from them. https://www.unitedmethodistwomen.org/mission-u/money.
Secondly, if you haven't yet become acquainted with Faith and Money Network, make a point to visit their website, faithandmoney.org.
LEE RESPONSE:
Choosing a bank is a spiritual practice
Taxes as redistribution and as investments
Redistribution is a practice of jubilee - Jubilee engages in redistribution
Women empowered through money and faith - Jubilee Circles involved in women's empowerment—not just a mother's day but ongoing revolutionary effort to change minds of women and men to live in a different relationship of sharing and cooperation instead of domination.
Artesanas Shalom
Women's Collectiva
Women's legal rights
Sewing machine - indigenous artists
Communitarian Feminism
Bill Ryerson of Population Media Center, part 2--Reducing Population Using Methods That Work
tagged

Overpopulation

Post a Comment